Board of Trustees
The Trustees of the Guilsborough Multi Academy Trust are both trustees under charity law and directors under company law. The Guilsborough Multi Academy Trust Board provide:
Strategic leadership of the Academy Trust: the Board defines the Trust vision for high quality and inclusive education in line with its charitable objects. It establishes and fosters the Trust's culture and sets and champions the Trust Strategy.
Accountability and assurance: the Board has robust effective oversight of the operations and performance of the Academy Trust, including the provision of education, student welfare, overseeing and ensuring appropriate use of funding and effective financial performance and keeping the estate safe and well maintained.
Engagement: the Board has strategic oversight of relationships with stakeholders. The Board is responsible for involving parents, the academy and local communities so that decision-making is supported by meaningful engagement.
As holders of a public office who are servants of the public and stewards of public resources, the Members subscribe to the Seven Principles of Public Life (also known as the Nolan Principles).
Solicitor of the Year for Northants in 2016, National joint runner up in 2020, Current Chair of the Region's Local Skills Improvement Plan Executive Committee, Highly Commended by the Law Society, Past President of the Northamptonshire Chamber of Commerce (and having received the County Award for 'Outstanding Support' in 2021) in his 'day job' as a nationally recognised litigation solicitor Kevin is Chair of the Board at Wilson Browne Solicitors. 'WB' are one of the largest firms of solicitors in the region, with 6 offices and over 160 staff. His teams are responsible for marketing and business development, human resources and operations including compliance, ICT and facilities management. Kevin also heads the Commercial Services offering for the firm and has been involved with Guilsborough since 2015, and on the Board since 2019.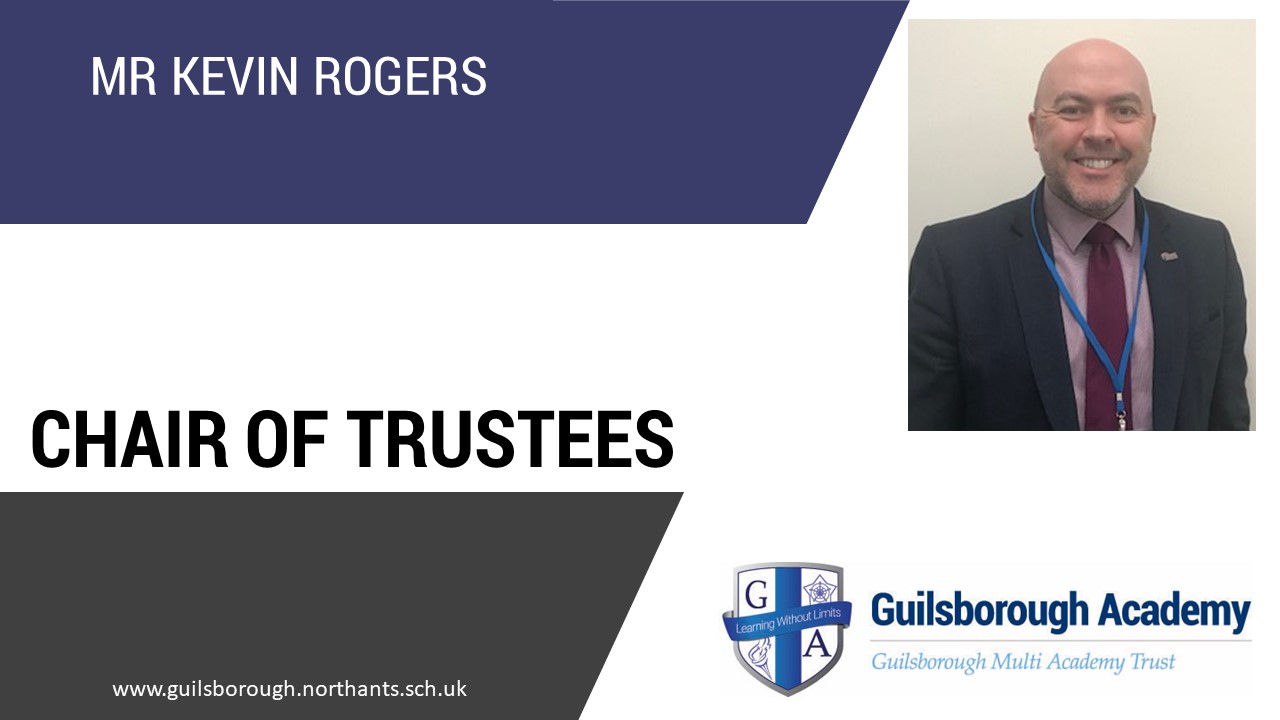 Kevin practices in commercial dispute resolution and professional negligence and is recognised by the Legal 500, the 'who's who' of the legal profession. He trained in both Manchester and London firms and has acted in a number of high profile cases that have attracted a good deal of media coverage. He is proud to act for local and national businesses, from sole trader to large companies, providing innovative funding options and practical commercial advice for clients large and small.
Kevin is also a SEMLEP Enterprise Adviser and has been attached to Guilsborough since 2015 in a voluntary capacity that aims to link the classroom with the world of business, and regularly arranges visits to the school from key members of the business community. Kevin lives locally in Brixworth with his wife and two young children.
Mr Paul Tzanos
Paul Tzanos is a Parent Trustee at Guilsborough Academy.
Paul is a qualified chartered accountant, having moved from South Africa to the UK in late 2020, living with his family in Northamptonshire ever since.
Paul works as a head of finance in the commercial LED lighting industry, while his wife works in early years education. Both their sons are at Guilsborough Academy.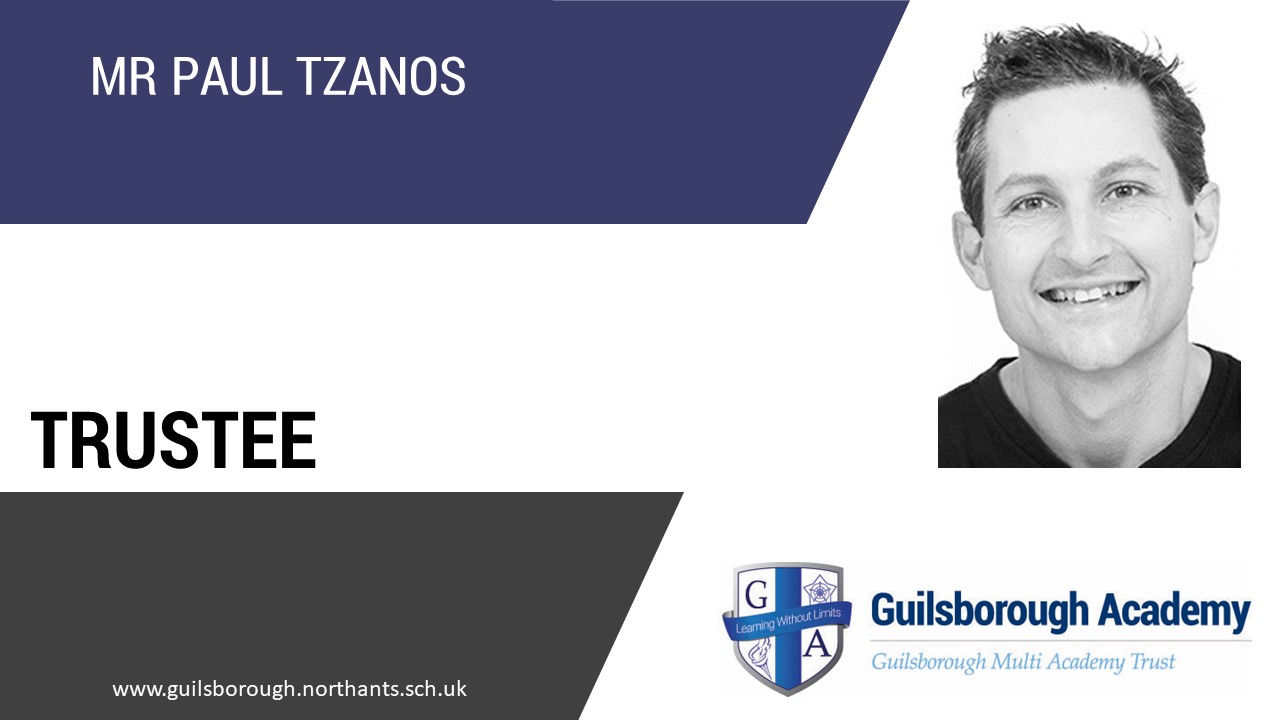 Mr Graham Leah - Vice Chair
Graham was a qualified teacher until leaving the profession to work in corporate recruitment and eventually ran my own recruitment business.
Graham is a trustee of two local charitable organisations and a Parish Councillor.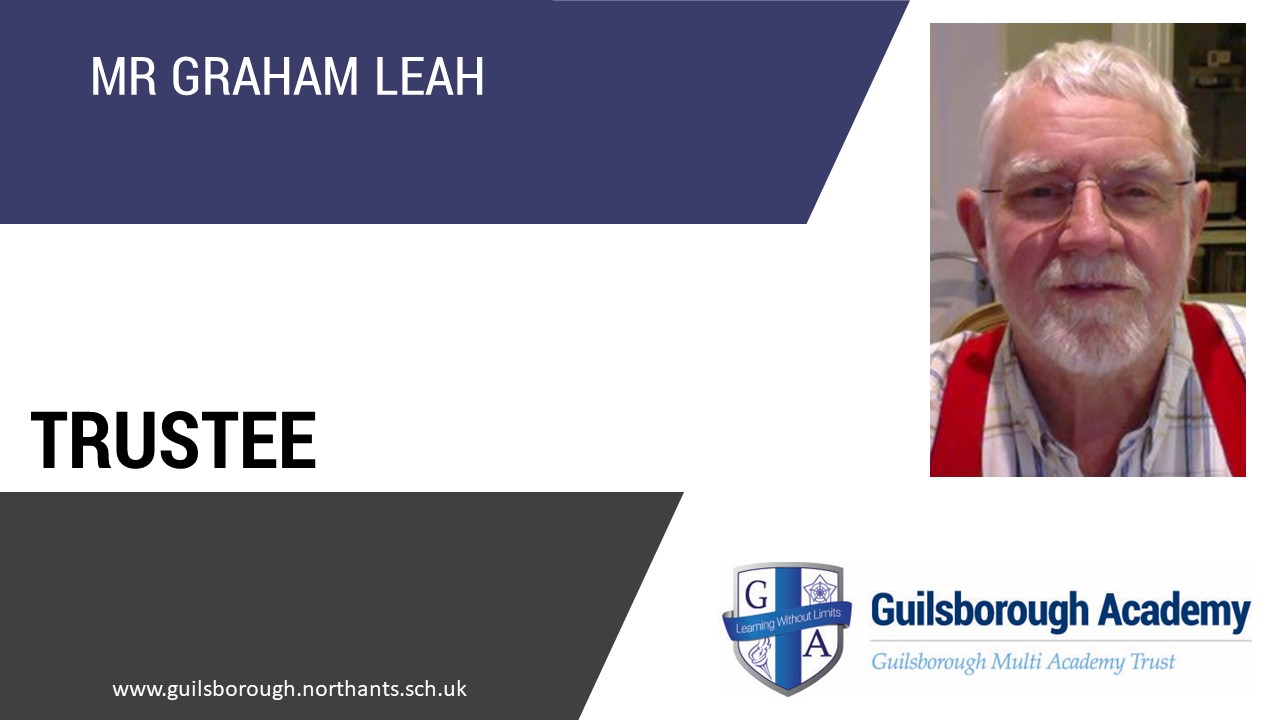 Graham's previous Governor experience includes various roles in secondary and primary including Finance Committee Chair, Chair of Governors and Graham is currently a Community Governor and Vice-Chair at Guisborough C of E Primary.
Graham's areas of responsibility are SEND and Disadvantaged pupils.
Ms Tabitha Droy
Tabitha has recently been appointed as a Community Trustee. She has had a long interest in Education and a local community involvement that has included being a member of school friends and PTAs; as her two sons have made their way from pre-school to secondary.
Before Tabitha moved to the area, she worked for BBC Radio, working on a variety of productions and projects that often brought lots of people together. Whilst there, she worked on programmes for both the Learning Zone and BBC Education, before heading over to Arts and Music.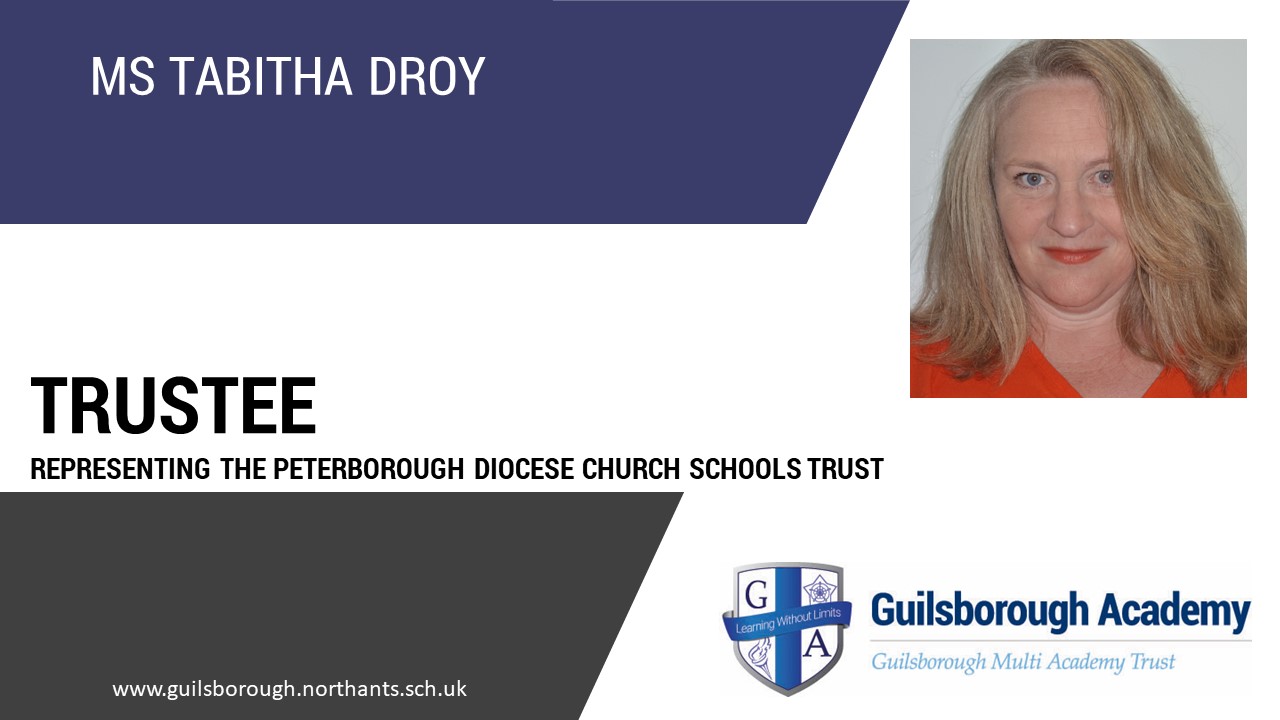 In 2012, the Droy family left the lovely peaceful village life of the Northamptonshire countryside for a two and half year adventure in Mumbai, India. Upon their return, Tabitha co-founded The Piano Technology School, with her husband, providing independent vocational training for anyone wanting to be a piano tuner. Part of her role is to provide business development and support trainees into work and further training, which brings experience of various Government Education departments and the Independent Higher Education Association. She is also a member of the Federation of Small Businesses.
Tabitha is a passionate advocate for the Arts and Education and believes creative enrichment should be available to all and has a role to play in early intervention strategies, supporting children and families when they need it.
Tabitha brings her experience as a business owner, trainer and active community member to the Board of Trustees at Guilsborough. Tabitha feels the time is right for her to take all her interests in the ever-changing education landscape and learn how she can best contribute to strategies that will ensure the long term future success of both students and staff at Guilsborough Academy.
When she is not bingeing a box set or listening to a podcast, she enjoys a walk with friends and having a house full of teens most weekends. Tabitha loves to dance, and her love of radio has never left her, so you can sometimes catch her on the community station.
Mr Nick Salisbury
Nick currently works as a Co-Principal at Sir Christopher Hatton Academy, which is an outstanding secondary academy, based in Wellingborough.
Nick lives in the local area and believes his experience and knowledge of the education sector helps benefit the pupils of Guilsborough Academy, ensuring they have the best possible education and opportunities.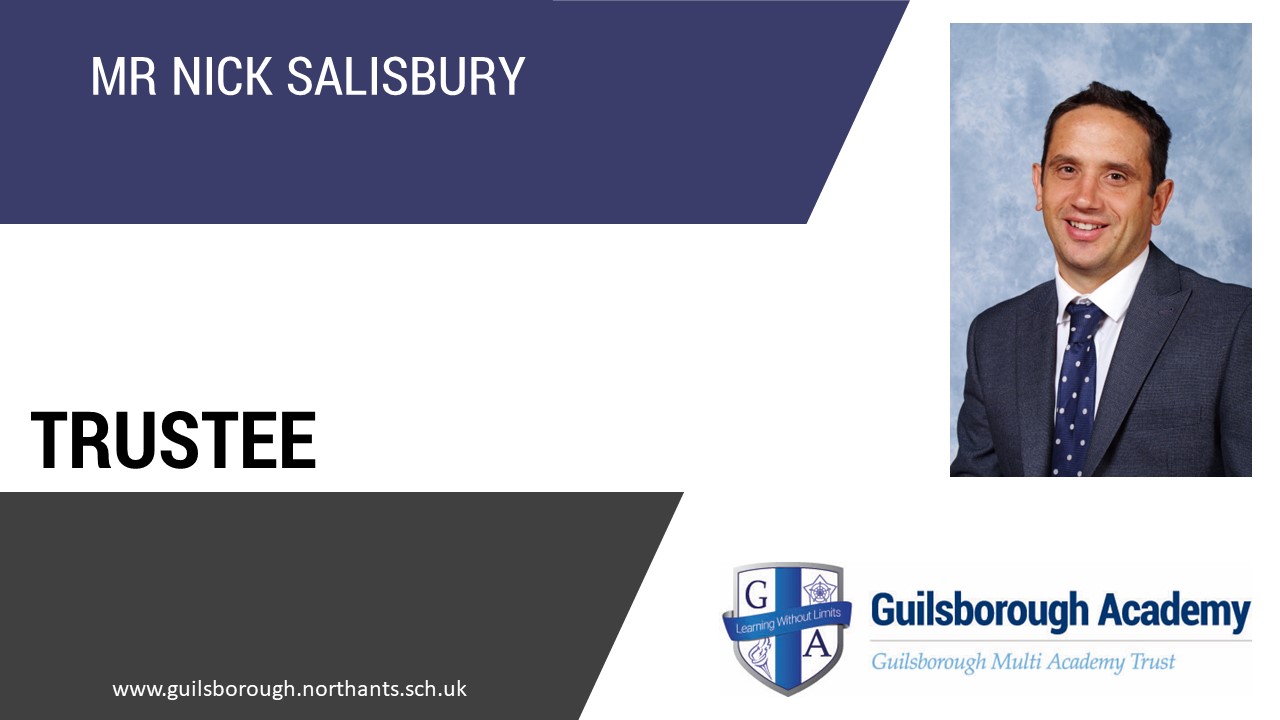 Nick began his teaching career in Northamptonshire in 2002. In 2003 he moved to Southampton where he took on his first role in management as second in science at a rural Hampshire school. In 2006 he became Head of science at an inner city school in Southampton.
In 2013 Nick joined Sir Christopher Hatton Academy as Assistant Principal with responsibility for science. The following year he was appointed as Senior Assistant Principal with responsibility for standards and progress of students across the academy whilst retaining strategic overview of the science department. In 2016 Nick was appointed Vice Principal in charge of Teaching and Learning. In 2019, Nick was incredibly proud to be appointed Co-Principal of Sir Christopher Hatton academy.
Outside of work, Nick enjoys watching and participating in sporting activities. He is a keen supporter of Coventry City and whenever possible Nick will take his children to watch a game.
Mrs Katie Towers
Katie is a serving Primary school headteacher and OFSTED inspector.
Katie's current role includes both Designated Safeguarding Lead and Special Educational Needs Coordinator. She has a BMus (Hons) degree, a PGCE and also holds the National Professional Qualification for Headship and National Award for SEN Coordinators.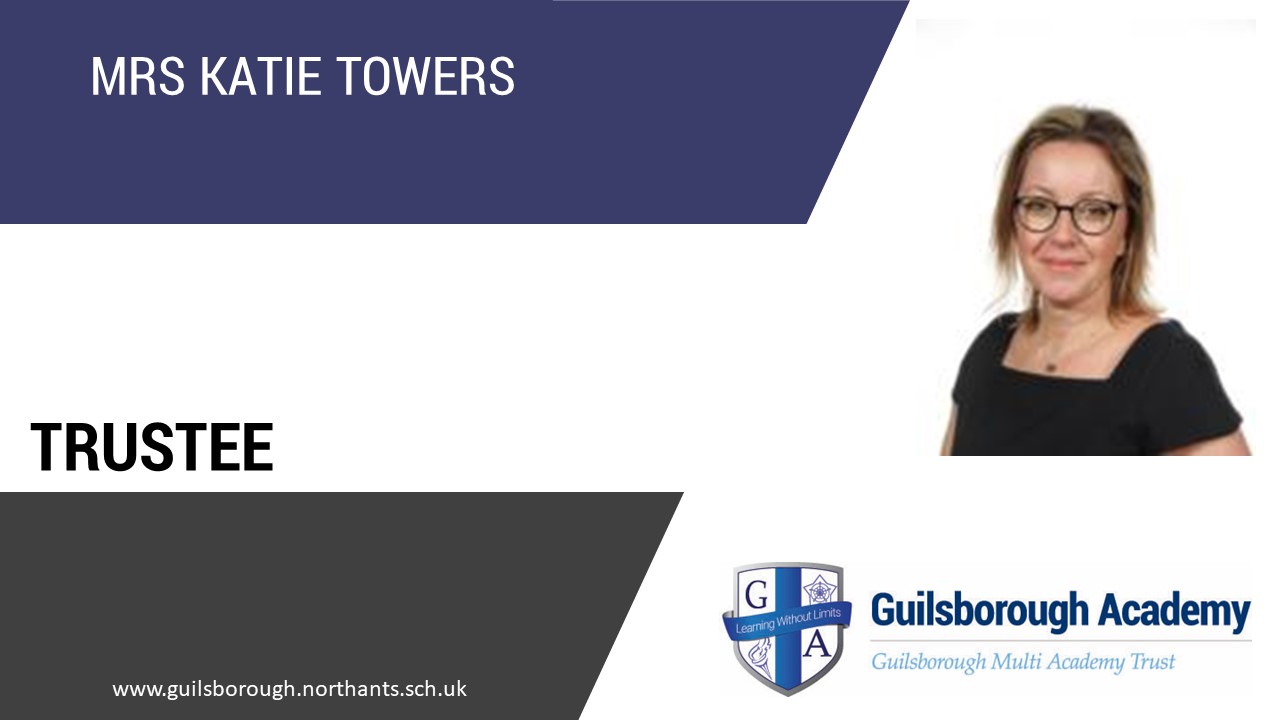 Katie has a number of years senior leadership experience as Assistant Principal, Head of school and Headteacher and has worked in Junior, Primary and all through settings. Katie has opened two new schools and has worked in both the maintained and Academy sectors.
As someone passionate about supporting children with additional needs, she is delighted to have this as an area of responsibility.
Mr Stuart Coe
Stuart graduated in chemistry and embarked on his career in education shortly afterwards, securing his first science teaching post at a local secondary school in 1998.
He moved to Brixworth a few years later with his wife Elaine, an English teacher, where they have lived since.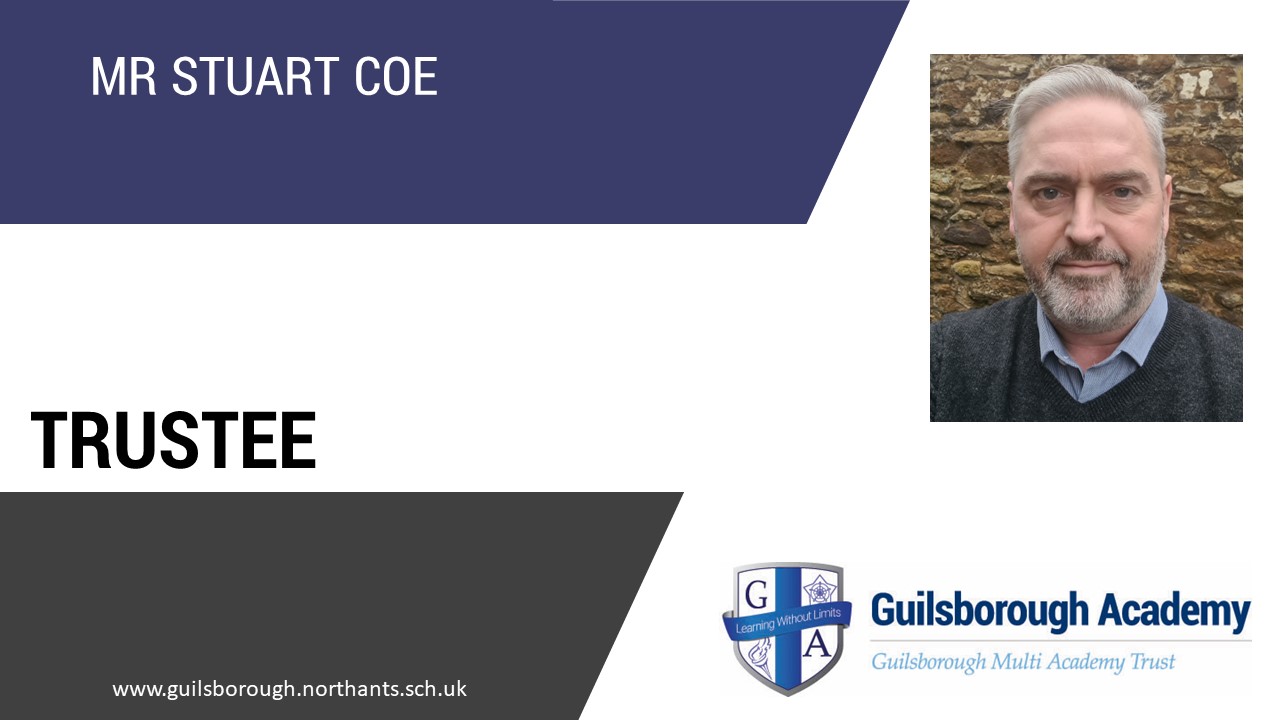 Stuart's eldest son left Guilsborough School for college in 2021, whilst his daughter and youngest son are now enjoying their recent transition into Year 10 and Year 7, respectively.
After promotion to his head of department position in 2007, Stuart was encouraged to become more active within his trade union. He has always enjoyed supporting educational colleagues and students alike, and continuously strives for all children to benefit from the very best educational provision and opportunities.
During his twenty-one years as a teacher, Stuart increasingly extended his support to many schools across Northamptonshire. He now works as a full-time regional officer for his trade union after ultimately relinquishing his teaching role in 2019.
Stuart is committed to drawing on his experiences and applying his skills to ensure that all children at Guilsborough School are safe, nurtured, and enabled to achieve their goals. He is keen to continue working closely with parents, the local community and the Board of Trustees to this end.
Mr Craig Ablett
Craig has worked in Health and Safety for the last 14 years holding senior management positions in various industries and now as founder/ Managing Director of a Health & Safety Consultancy.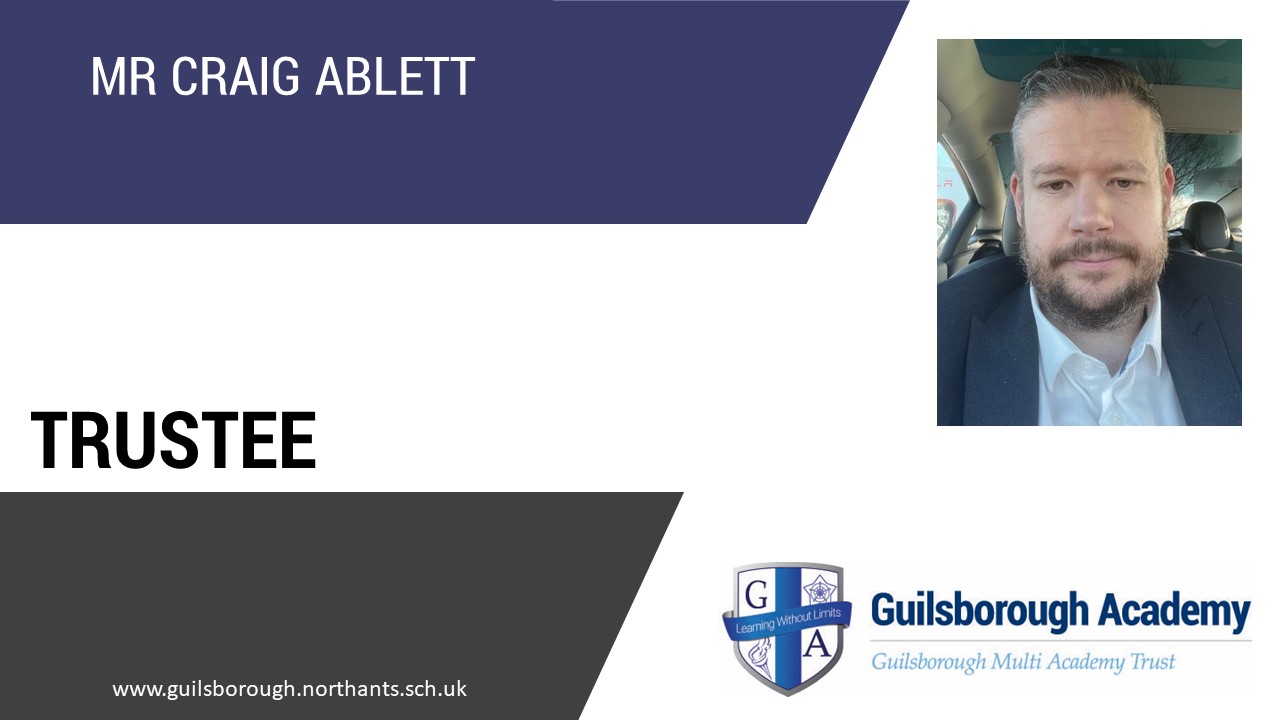 Craig is a focused, enthusiastic Health & Safety professional who can adapt to a fast-paced environment to meet critical safety needs by taking a pragmatic approach to addressing the diverse requirements of today's legislation. The core belief is that achieving the best Health & Safety practice should not prevent you from pursuing your business goals. Its purpose is to enable you to do so safely and efficiently. Health & Safety compliance should not be a burden, especially financially.