The Board of Directors
Mr Tim Heydon
Tim has lived in Naseby for 22 years and has 2 grown up children and 5 grandchildren, with another 2 grandchildren "on the way".
Tim until recently was the Chair of Governors at Naseby for 6 years and was instrumental in the conversion to Academy status & the formation of Guilsborough Multi Academy Trust. Tim has been actively involved in Naseby Primary since moving into the village. His wife Andrea was Bursar at the School for 18 years.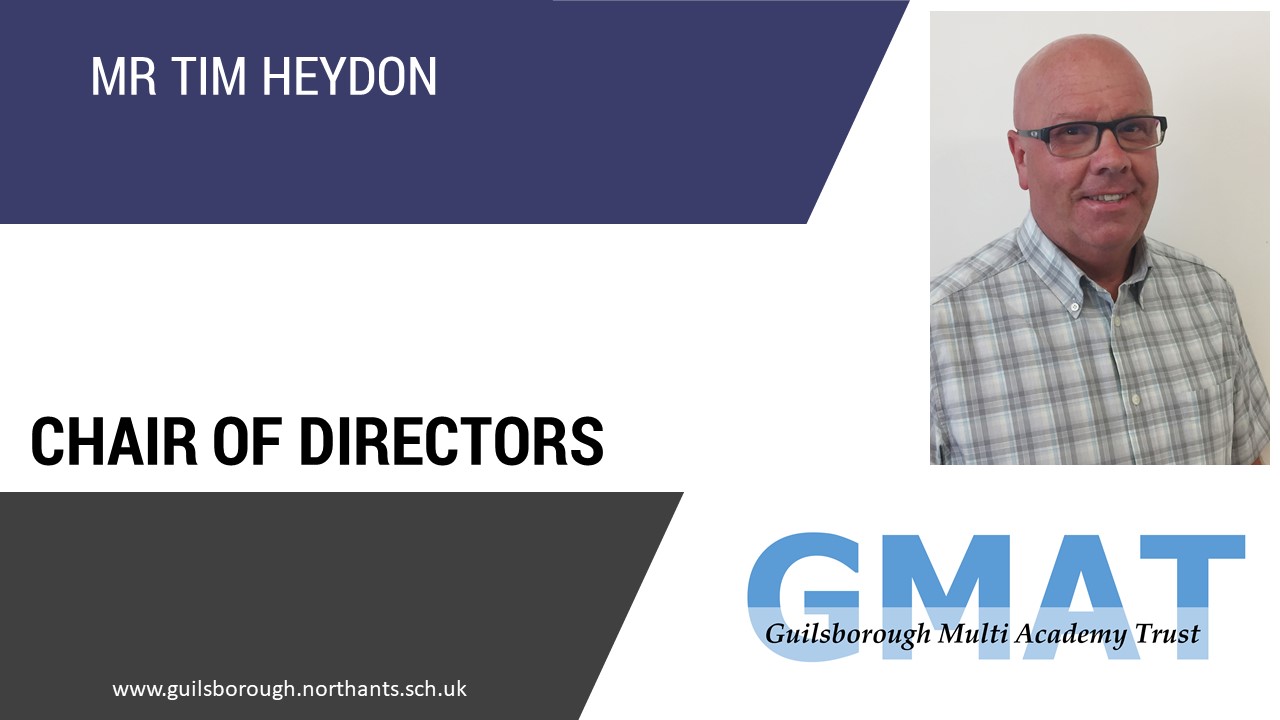 Prior to his retirement in 2008 Tim spent 34 successful years working in the Information Technology area of a major High Street Bank latterly specialising in the integration of IT services post merger / acquisitions. He has always had a keen interest in the governance and control disciplines associated within a regulated industry. Tim relocated from the North West to Northamptonshire in 1995 in order to be within an easy commute to London.
In his spare time Tim enjoys playing Table Tennis, spending as much time as possible with his grand children and generally enjoying retirement!
Tim is keen to see the Multi Academy Trust grow and to look to partner and support the many local rural primary schools within the local geography.
Mr Kevin Rogers
Solicitor of the Year for Northants in 2016, President of the Northamptonshire Chamber of Commerce from 2018, in his 'day job' Kevin is Chairman of the Board at Wilson Browne Solicitors, one of the largest firms of solicitors in the county, with 6 offices and over 160 staff. His teams are responsible for marketing and business development, human resources and operations including compliance, ICT and facilities management. Kevin also heads the Commercial Services offering for the firm.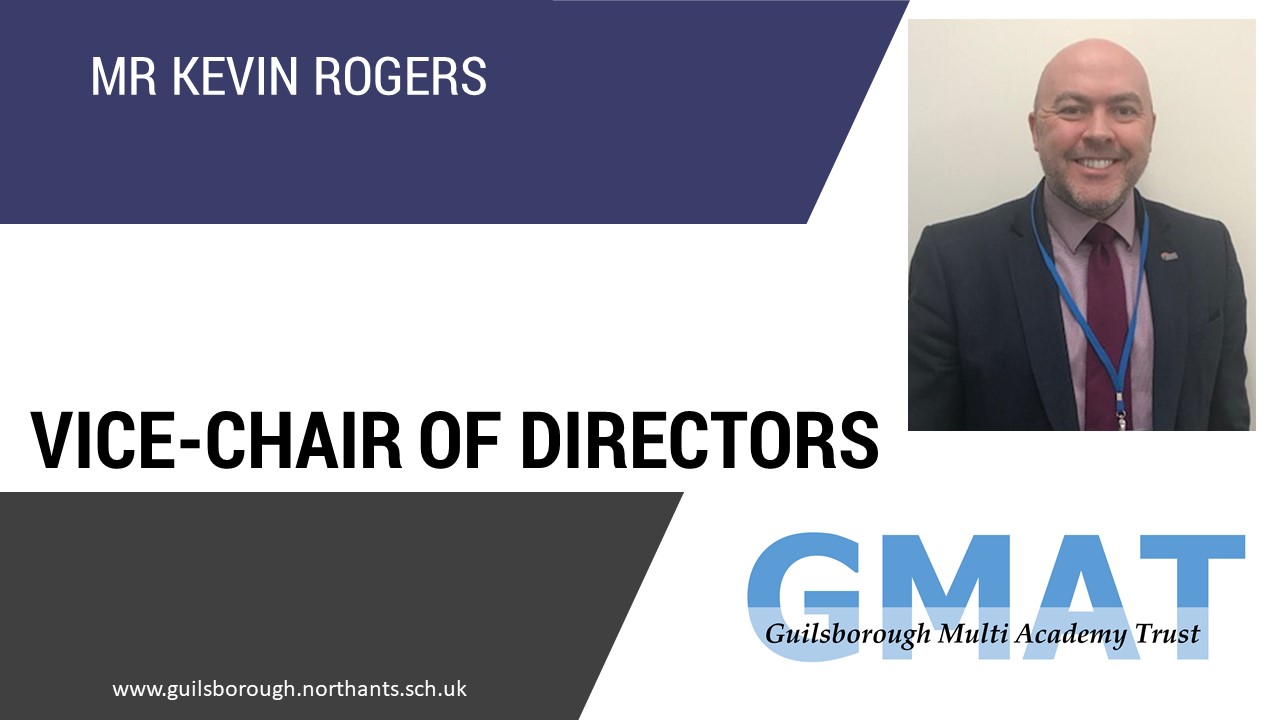 Kevin practices in commercial dispute resolution and professional negligence and is recognised by the Legal 500, the 'who's who' of the legal profession. He trained in both Manchester and London firms and has acted in a number of high profile cases that have attracted a good deal of media coverage. He is proud to act for local and national businesses, from sole trader to large companies, providing innovative funding options and practical commercial advice for clients large and small.
Kevin is also a SEMLEP Enterprise Adviser and has been attached to Guilsborough since 2015 in a voluntary capacity that aims to link the classroom with the world of business, and regularly arranges visits to the school from key members of the business community. Kevin lives locally in Brixworth with his wife and two young children.
Mrs Julie Swales
Julie Swales is the Executive Principal of Guilsborough Multi-Academy Trust and one of the Board of Directors.
Julie was appointed Executive Principal in 2020 after being Principal since September 2016. Prior to this she was Associate Headteacher at Guilsborough Academy from September 2014 and Deputy Headteacher since January 2011.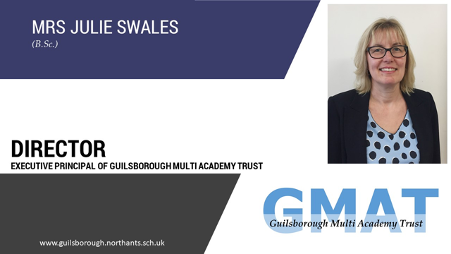 Julie has spent the last 29 years working in Education, in four different Secondary Schools. Prior to this she spent several years working in accountancy before deciding to study for a mathematics degree, then gaining a Post Graduate Certificate in Education to become a mathematics teacher. Julie's career has seen her work with Primary School colleagues to carry out research into the impact of transition on mathematics learning, lead a Mathematics department, set up and lead a Mathematics and Computing specialist school. Whilst doing the latter she also studied for and gained the National Professional Qualification for Headship. She has also been the Pastoral Deputy Headteacher with overall responsibility for Child Protection and Behaviour for Learning in a local school, before taking on the role of Curriculum Deputy Headteacher at Guilsborough in 2011.
Julie has lived in Northamptonshire for 29 years, has married and had two children during this time.
Julie believes strongly that everyone is talented in their own way and that the key to confidence and success is finding those skills and developing them. Alongside this she believes that everyone wants to do their best, but sometimes we need support and appropriate praise to achieve this. Julie is very committed to supporting the work of staff, parents/carers, governors and directors in the Trust to help each young person achieve their aspirational goals.
Mrs Angela Carter
Angela Carter is the current Chair of the Finance and Staffing Directors Committee at Guilsborough Academy. She worked closely with the previous headteacher to convert Guilsborough to an academy and bring Naseby Church of England Primary school into the Multi Academy Trust.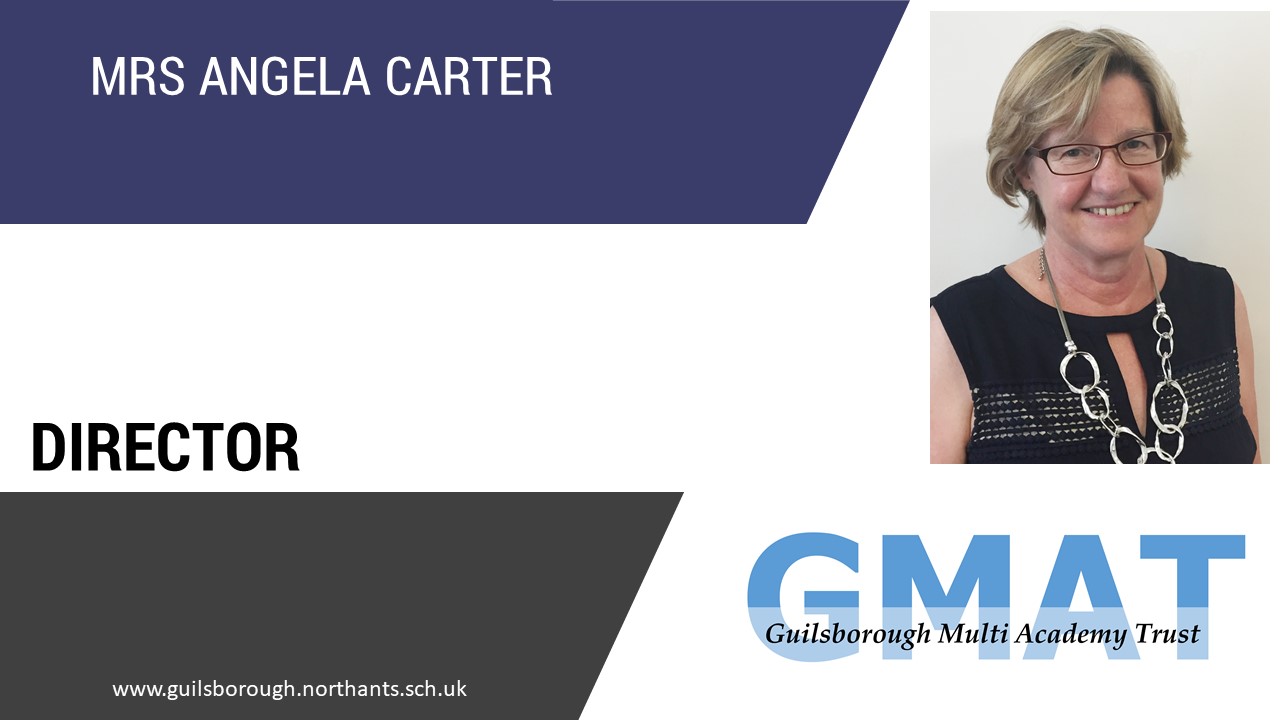 Angela is a Chartered Accountant and works part time locally. Previously she lectured at the University of Northampton specialising in taxation and auditing. She was instrumental in the development of the Accountancy Degree at the University.
As a Naseby resident for 30 years she has been involved in various local groups both personally and as a parent. Recently she has taken up tai chi.
Supporting Guilsborough Multi Academy Trust in these financially challenging times for education is a challenge she enjoys. Angela is keen to pursue a sustainable development of Guilsborough Multi Academy Trust.
Mr Wayne Jones
Wayne Jones is a serving Head Teacher at Stanion Church of England Primary School and joined the Guilsborough Directors in the Autumn Term 2018.
He has experience of supporting schools and recently mentored a group of Head Teachers new to headship. He also has recent experience of being an Executive Head Teacher when he was Head at two schools for a year.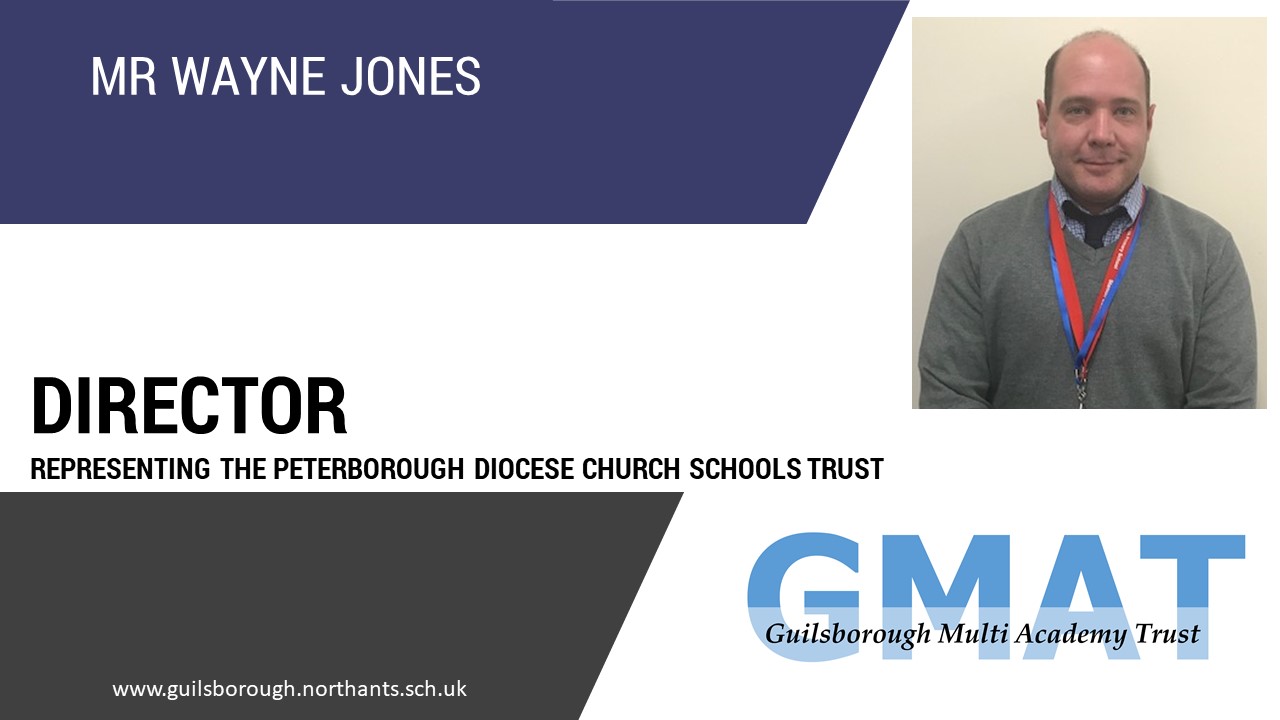 Wayne has lived in Northamptonshire all his life and has taught in the county for 14 years. He has taught in a range of schools but particularly enjoys his current role leading a Church of England school.
He enjoys travelling and tries to visit a different place each school holiday.
Wayne is committed to ensuring children are given the opportunity to achieve in school and looks forward to supporting Guilsborough Multi Academy Trust and the Governing Boards.
Mr Neill Coventry
Neill Coventry moved into the village almost 10 years ago. He currently has a son attending the Academy.
Neill is a qualified chartered accountant with extensive business experience. He qualified in London and went straight into business after qualifying. His main experience is in business turnarounds having successfully transitioned businesses with challenges into profitable enterprises. His last role before retiring was as the Managing Director and Finance Director of a software company bought out from a FTSE 100 company by venture capitalists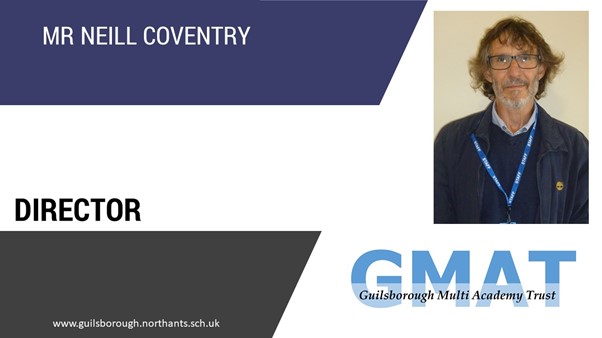 Neill has always looked to offer his knowledge to others wherever and whenever he can and has supported young people as part of the Prince's Trust after qualifying and more recently on the committee of the Guilsborough Pre-School, when his son was attending.
In his spare time, he continues to train for cycling time trials, having competed in National Championships from 10 miles up to 50 miles. He also likes to read French classics, Philosophy and Quantum Physics.
Neill fervently believes in the importance of education and is keen to support the academy and students as much as he can to ensure each student achieves their potential and all possible opportunities are opened up for them.